Hotel Anaconda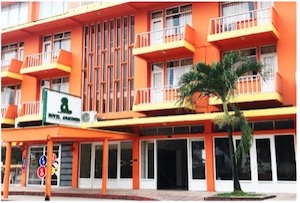 Hotel Anaconda is one of the most traditional hotels in the center of Leticia. With AC, swimming pool and restaurant. It has single, double/twin and triple accommodations.
SALSA Partner Rates
(as of December 2022)
Single room (1 pax): COP$ 180,000 (USD$ 37.14)
Double room (2 pax): COP$ 280,000 (USD$ 57.78)
Twin room (2 pax): COP$ 290,000 (USD$ 59.84)
Triple room (3 pax): COP$ 375,000 (USD$ 77.39)
Available through direct contact with the hotel. Keyword: SALSA PARTNERS 2023.
Contact information
Address: Carrera 11 N° 7 – 34 Leticia, Amazonas, Colombia.
Phones: (+578) 592 7891 / 592 7274; (+57) 311-271 8036 / 310-561 2241.
Website: https://hotelanaconda.com.co/es/