The Asociación Intercomunitaria PAINÜ was established in 2014, with the purpose of strengthening the knowledge system of the Magütá (Tikuna), Kokama and Yagua ethnic groups settled around the lake system of the Yahuarcaca river, in Leticia, Amazonas. Through this process of community-based development, three indigenous communities, La Playa, El Castañal and San Sebastián de los Lagos, share their territory and knowledge. These activities of community organization and local empowerment have opened up spaces that contribute to the strengthening and rescue of traditional practices. The cultural interpreters of Painü are the elders as the main agents of culture, taking cultural tourism as a strategy for the conservation, preservation and safeguarding of the culture and intangible heritage of the Tikuna, Kokama and Yagua peoples. This experience contributes to the conservation and protection of culture, by strengthening traditional knowledge regarding the use, management and conservation of plants, animals, sacred sites, traditional medicine, dances, songs and stories, sounds of nature and sources of water essential for sustainable local development, through cultural training spaces for the consecration of the seven spirits of mother nature that are: the earth, the water, the air, the jungle, the animals, the beings of the water and the birds.
Customized tours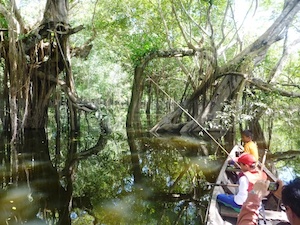 We offer tours according to the wishes and interests of the visitors, from one day to several days and nights. These include bird watching, learning about plants and their medicinal uses, practice sport fishing, look for insects, meet with the indigenous communities and share time with families and their daily activities such as fishing, working in the chagra, cook typical meals, make handicrafts etc. For us it is a pleasure to serve you, please contact us to get the best out of your trip.
How to get there
From the center of Leticia, 4 km along Via Los Lagos, you reach the San Sebastián de los Lagos community where the Painü office is located, and from this place you can access the lake system of the Yahuarcaca river. These communities are located in a privileged place with easy access for visitors and the wonderful Wadiü and Painü routes.
Contact information
Address: Community of San Sebastián de Los Lagos, Km. 4 Vía Los Lagos
Contact: José Yahuarcani Sandi – Presidente y guía de San Sebastián
Phone & WhatsApp: +57 317 3076078

---